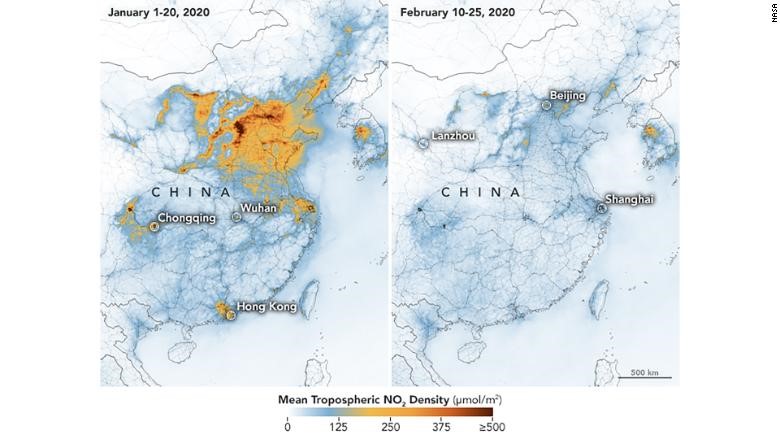 The Click on T project – which aims to educate and sensitize adults to the issue of climate change through the application of methodologies for non-formal education, coordinated by the Fondazione Toscana Sostenibile Onlus, with the technical support of NKey srl, which together with the , Involving 4 other European countries such as Spain, Romania, Poland and Lithuania, thanks to this article written by Project Manager Simone Pagni – would like to highlight a positive aspect in the field of lowering CO2 emissions due to closure of factories in China to deal with the coronavirus pandemic situation.
An unexpected surprise due to the coronavirus pandemic: a slowdown of carbon dioxide emissions due to reduced energy consumption
We know that there is a strong link between economic activity and global carbon dioxide emissions, due to the use of fossil fuel sources of energy. This coupling suggests we might be in for an unexpected surprise due to the coronavirus pandemic: a slowdown of carbon dioxide emissions due to reduced energy consumption.
In just a few short months, millions of people have been put into quarantine and regions locked down to reduce the spread of the coronavirus. Events are being cancelled and travel plans dropped. A growing number of universities, schools and workplaces have closed and some workers are choosing to work from home if they can.
– The emissions rebound
The unprecedented coronavirus lockdown in China led to an estimated 25% reduction in energy use and emissions over a two-week period compared to previous years (mostly due to a drop in electricity use, industrial production and transport). This is enough to shave one percentage point growth off China's emissions in 2020.
Reductions are also being observed in Italy, and are likely to spread across Europe as lockdowns become more widespread. The emission-intensive airline industry, covering 2.6% of global carbon dioxide emissions, is in freefall.
Thus, based on new projections for economic growth in 2020, it is expected that the impact of the coronavirus might significantly curb global emissions.
– Changes brought on by coronavirus could help tackle climate change
The coronavirus pandemic will not turn around the long-term upward trend in global emissions. But governments around the world are announcing economic stimulus measures, and the way they're spent may affect how emissions evolve in future.
There is an opportunity to invest the stimulus money in structural changes leading to reduced emissions after economic growth returns, such as further development of clean technologies.
Article by Simone Pagni
Photo Source: Satellite images released by NASA and the European Space Agency