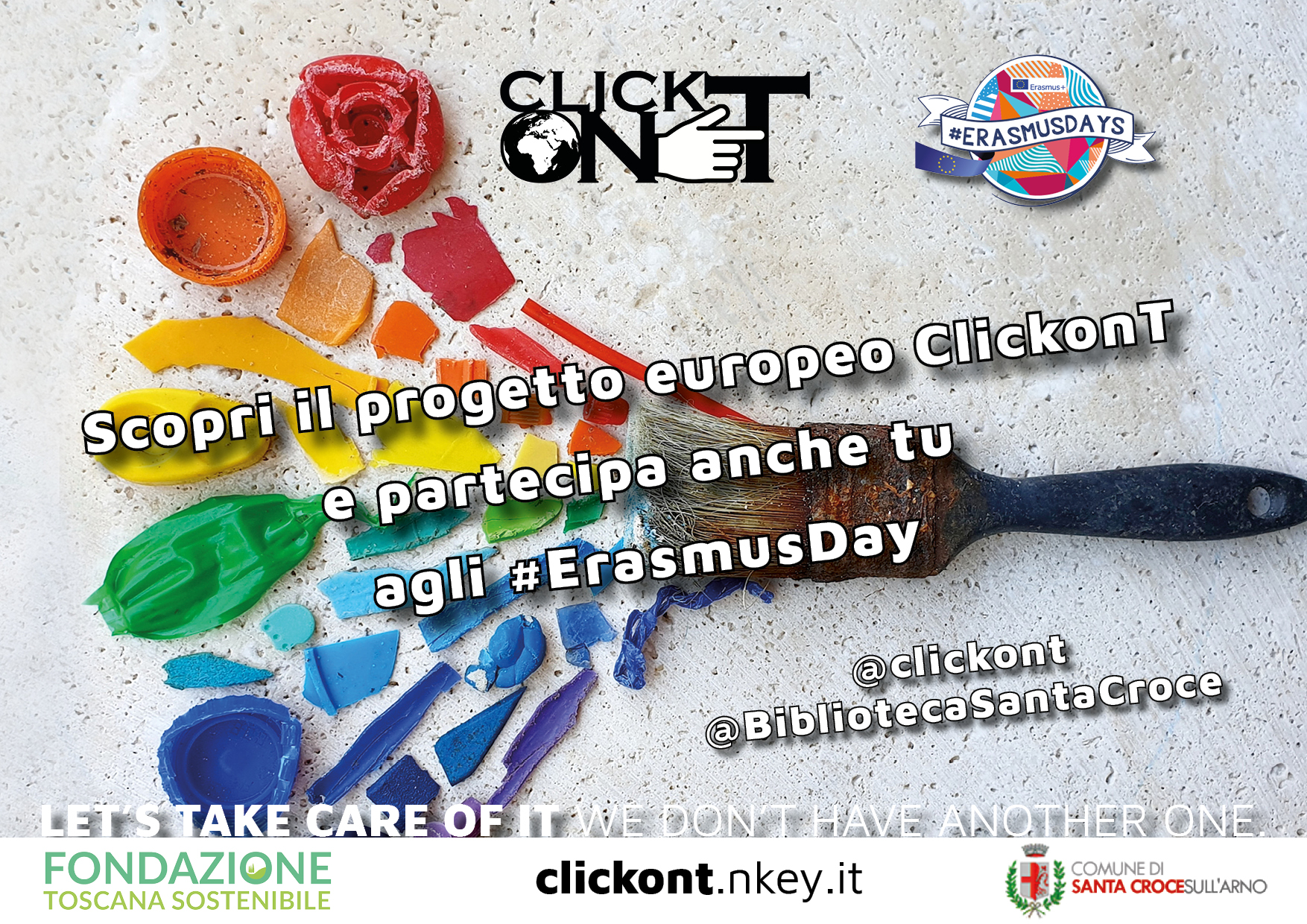 On October 16, Fondazione Toscana Sostenibile in collaboration with the Comune di Santa Croce sull'Arno organizes an Erasmus Day in-depth study day.
A day of initiatives dedicated to Erasmus projects and in particular to the "Click on T" project – Climate Change Knowledge on Training, which seeks to raise awareness among young people on environmental issues and climate change
The date to be put on the agenda is October 16, 2021.
Those who want to participate can come to the Santa Croce sull'Arno Library to immerse themselves directly in an experience of creative recycling, giving free rein to their creativity and imagination, without forgetting the environment and future generations.
The day will also be an opportunity to promote and make the Erasmus + program known, share an experience, spread the "Click on T" project and encourage other people to embark on this adventure.
The "Click on T" project involves, in addition to Fondazione Toscana Sostenibile (Italy) with the IT and intellectual support of NKey Srl, associations and realities working in Romania, Poland, Spain and Lithuania: Pro Xpert, Association, CEBS – Education and Social Research Center, Federacion EFA Galicia e Socialiniu Investiciju Valdymo Centras.
After the start of the project in September 2019 and the setback due to the global pandemic from Covid 19, activities resumed in June 2021 with a first workshop in Montaione and a second workshop in September 2021 in Santiago de Compostela (Spain), October 16 will be an opportunity together with all the people who want to participate to experience together what the circular economy of waste is in order to reduce our impact on the environment by experimenting with creative recycling techniques. All information on the Click on T  website
"The project aims to create educational paths dedicated to raising awareness among adults and young people on the subject of climate change and the environmental emergency, through the application of innovative methodologies.", Says Simone Pagni of the Fondazione Toscana Sostenibile, "I invite anyone feels just a little curious to participate in the event!".
The invitation is open to all without age limits, on the occasion all participants will be given an "ecological" gadget.
Please note that the green pass for events in presence in Italy is mandatory.
Below is the address of the office and the times where the laboratory will take place:
Municipal Library from 9 to 12 – Santa Croce sull'Arno (Pisa), Piazza Giacomo Matteotti, 8